Many people often get confused between ambush marketing and guerrilla marketing. These both are unconventional marketing techniques but way apart from each other. In guerrilla marketing- emphasis is more on creating a buzz about a product while ambush marketing is more tilted towards pitching a product to increase sales.
In ambush marketing, creative minds usually target competitors' ads slogans to craft their marketing strategy. Subtle references, sly jokes, are part of ambush marketing campaign. This form of marketing is not new. Many renowned companies across the world have used ambush marketing techniques to market their product. There are some cases where ambush marketing left everyone stunned including market veterans and customers. Here are those examples:
Rona Catches Apple's Paint
No matter how big an organization is, everyone, always look for more attention to boost their sales. In 2010, Apple's colourful iPod Nano was amongst the most popular mp3 players in the market. Even though, just to make a larger appeal, Apple's creative team came up with an idea. They hired a billboard in Canada's Montreal and displayed attractive images of colourful iPods where colours were drip down towards the bottom side. The whole billboard itself was looking very attractive. But what happened next is very interesting. Domestic retail giant- Rona, Inc. who also deals in paint business saw an opportunity to take some extra mileage out from Apple's marketing campaign. The creative team of Rona, hired an underneath billboard and designed small boxes in a fashion which looked like collecting the paints coming out from those iconic iPods, placed just few feet above. Further, Rona's tagline- "we collect leftover paint" with their trademark added much value to their campaign. Every passer-by found Rona's efforts highly creative and appealing. This example is still considered as one of the most iconic and creative marketing campaign done through the concept of ambush marketing.
Hash Tags and Twitter Trolls of Snapdeal v/s Flipkart
People communicate with each other. Business rivals communicate with each other. But have you ever witnessed a billboard of rival company is talking with its neighbour billboard; maybe not. And what if that communication holds some element of humour in it; wouldn't it then catch attention of customers. This exactly is what exactly had happened in India that too not very long time ago.
In the year 2015, Flipkart, an e-commerce giant, launched a marketing campaign by asking one simple question to the Indian customers, just ahead of the festive season- Nahi Khareeda? Means in English have you not bought. And run a hash tag- #Acchakiya means- you have than done right. This way Flipkart was persuading the customers who had not purchased the festive accessories including cloths, footwear and other materials to but it from Flipkart. They run a long campaign on TV, billboards and Twitter across the India to allure more customers.  Now, how many customers exactly attracted towards Flipkart is still a secret but one of its rival- Snapdeal found it very interesting and came up with a very interesting idea. On about 100 billboards across 20 cities, Snapdeal take a humorous jibe at its rival Flipkart. What Snapdeal did was- they hired billboards close to Flipkart's billboard with a popular Hindi phrase- 'Accha kiya Bata Diya' which means:  It is good that you told me. Along with more interesting counter hash tag- 'YahaSeKharido' means- then purchase it from here. Therefore, what started by Flipkart was ultimately influenced by Snapdeal towards their side.
This humorous add campaign done by Snapdeal exactly attracted how many customers towards its brand, no one really knows but a later troll war on Twitter from both the sides made everyone smile and created a positive PR exercise for both the company.
Fiat Photo bombs Volkswagen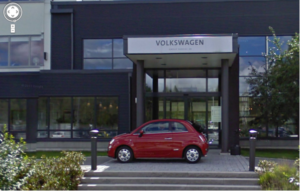 Italian car manufacturer Fiat used the concept of ambush marketing in 2013 when they parked a red Fiat 500 hatchback car on the front door of its rival Volkswagen's Swedish headquarters just before the Google maps cars were going to pass in the nearby vicinity. What they did, they follow the Google's car for nearly 45 minutes and when they found it very close to the Volkswagen's headquarters, they parked it casually over there. Google's car came, clicked photos and upload to its servers. And then within minutes the Fiat's car disappeared. For couple of years, the image of that Fiat car in front of Volkswagen's headquarter leaves everyone wondering and help created more awareness about Fiat cars with an element of surprise.
Coca Cola v/s Pepsi
Most of the Indians remember the year 1996 as a co-host of cricket world cup. After the 1983's euphoric world cup win, expectation again had soared high to lift the world cup again that too in our own soil. In that year, International Cricket Council (ICC) had given Coca Cola the rights for being the official sponsor of the tournament in India. By smelling a lost opportunity, rival beverage giant- Pepsi, led a creative marketing campaign using the phrase- 'Nothing Official about It' and smartly stole the limelight from Coca Cola. Just by smartly using wit and vital keyword associated with the event, Pepsi was able to make its presence felt that too without being an official sponsor. During and after the whole world cup, many were confused that who was the main sponsor- Coca Cola or Pepsi? That instance is perhaps seen as the most famous example of ambush marketing of 20th century in India.
Further, Audi v/s BMW, Samsung v/s Apple, Visa v/s American Express are also some of the most memorable and eye-catching campaigns in the history of ambush marketing which hugely benefitted the companies to promote their products in a different way.
However, ambush marketing is an effective way to persuade customers but in many countries it is done under stringent guidelines and creating anything by-passing the law is considered as punishable offence as well. Therefore, craft your marketing campaign carefully, without inviting any trouble for yourself or for your company.
Ashwini Deshmukh