You might have heard that the business sectors are often considered as male-dominated one, and has been driven as per male supremacy decisions. However, these odds are been reversed over the past few years with the integration of women staff in various segments. Irrespective of any gender, it does require constant and tireless efforts in order to be at the top. A leader is not born by certain set of skills but, it evolves within. With a firm vision, it gets much easier for an entrepreneur to polish self-qualities which are most needed to be a frontrunner.
Whenever, the term female entrepreneurs are high-lighted, the first thing that strikes an individual's mind is Women Empowerment. Meanwhile, it has been witnessed that the ratio of female entrepreneurs in the world is almost on its way to over-take the males. While in India, the concept of female entrepreneurship is slowly but immensely growing with time. Supportively, many social activists and women welfare societies claim that this might be the initiation of Women's Era. On the other hand, the country has produced some of the finest female entrepreneurs which are not only influencing the businesses but also, inspiring new female tyros.
With a keen research, we put forth some of the best female entrepreneurs who are making a difference in their respective fields. Here are some…..
Indu Jain is one of the top business women of the India; she belongs to the Sahu Jain Family and the Chair Person of the Bennett, Coleman & Co. Ltd, the parent company of Times Group. After the death of her husband, she took over the company and proved herself to be the worthy leader for the largest media firm of India. She has been leading the company since 1999, and yet never disappointed the board of the company. Being a mother of two-sons, never pulled her back, but drove her more in order to build-up a strong stature for her-self and the company. She is also considered a role-model for aspiring wannabe entrepreneurs and also to the working class women.
At the age of 79, Indu Jain was awarded with Padma Bhushan by Indian Government for her excellence in media sectors. Besides, she is also a spiritualist, humanist, and an aficionado of culture and the arts.
Kiran Mazumdar Shaw is one of the top female entrepreneurs that India has ever produced. At the age of 65, she is the Founder, Chairperson and MD of the Bangalore-based pharmaceutical company Biocon Limited. And also, she is the chairperson of India's one of the finest colleges for management, IIMB. Before starting Biocon in 1978, Kiran worked as a trainee brewer in Carlton and United Breweries, Melbourne following to a trainee maltster at Barrett Brothers and Burston, Australia. Meanwhile, under her supervision Biocon has evolved from an enzymes manufacturing company to fully-integrated bio-pharmaceutical company. Where, it stands as a foremost player in biomedicine research focusing on diabetes and oncology. She has been awarded with the Padma Shri and Padma Bhushan in the year 1989 and 2005 respectively. Also, she has received an international award Othmer Gold Medal for contributing in progress of science esp. chemistry.
Her achievements are the proof that she belongs to the group of influential women, who has the capability to make difference in society. In one of her statements she clearly stated that her main focus is on women empowerment by making sure that Biocon aids women scientists to pursue a certain vocation.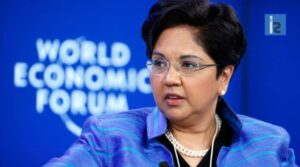 Indra Krishnamurthy Nooyi is a very well-known Indian-American entrepreneur. Currently, she is serving as Chairperson and CEO of second largest food and beverage business by net revenue—PepsiCo. Born and bought of Chennai, Indra Nooyi stood as a motivation for loads of young girls as well as boys in order to achieve success in business sectors. She has master's degree in Public Management from Yale University also, did Masters in Finance and Marketing from IIM, Kolkata. Before working for PepsiCo, this skill-full personality has worked from Motorola and Asea Brown Boveri. She was named as Chairperson and CEO of Pepsico both in the same year 2001.
She has been awarded with India's one of the prestigious award Padma Bhushan and, termed among most influential women in the world. Under her leadership the net profit of PepsiCo has increased three times as it was earlier. Meanwhile, she is also conferred with many awards for her terrific business achievements. She has become a sensation as an inspiring leader in India's corporate leadership.
As per reports, International Cricket Council has announced that Nooyi will be joining the ICC Board as the first independent female director in the year 2018.
These ladies are not just reshaping the business sectors but also, spreading an in-direct awareness about women empowerment in India as well as in World.
Read More [Best Indian Business Tycoons]
– Bhushan Ghate