Web hosting is an industry with enormous potential. If you are a tech grad eyeing to tap into the web hosting world, web designer or developers who have good clients, you are in right place!
Today reseller hosting services are in demand. You may be well acquainted with reseller hosting services that are used to host website. However, this article speaks about something interesting that has gathered more eyeballs. This is something more about business.
What is a Reseller Hosting Program?
For novice readers, reseller hosting is nothing but a web hosting service wherein a company rents out a portion of disk space and bandwidth to their users. These users who become account holders in turn rent out a portion of disk space and bandwidth he receives to other end users. So, now the account owner becomes a web hosting service provider to those end users.
How much Technical Knowledge should I have?
Don't be scared if you do not have much of technical knowledge. In fact, owners of reseller hosting services are not required to have extensive knowledge of web hosting. Reseller hosting packages come bundled with control panels (cPanel / WHM) which help to create accounts for multiple users and manage them. It is the parent company that takes charge of offering the technical support to third party (your clients) customers.
You would be glad to know that many of the account holders of reseller hosting are entrepreneurs who are running profitable businesses rather than experienced webmasters.
Let's Talk Business Now! Earn Money with Reseller Hosting!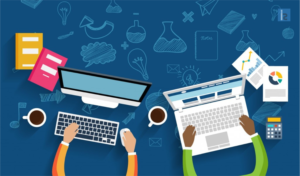 Till now there may be hundreds of question that have crossed your mind now like – How do I begin? How to do it? How can I handle it? Will my clients know it's me…or my hosting company? What income can it generate… and many of them. Well, let me simplify things for you…
Let's Begin Step by Step
Begin by choosing a reputable web hosting provider. Research web hosting companies that offer reseller hosting. This is one of the most necessary that you need to take wisely. You need to pick a good parent provider as they won't be just offering services to you but also to your clients. Some of the important aspects include –
Flexible, powerful and complete control of your servers
Rock-solid performance through branded hardware
Maximum privacy & security
24x7x365 server monitoring & technical support
Selecting a strong parent company matters otherwise, you may have to deal with outages and lower uptime percentages which will typically lower your brand image in front of your customers.
Next, compare reseller hosting plans to determine the one that best suits your budget and needs. Sign up for it.
Further, you need to settle the package. For that you need to figure out the number of customers that you will be hosting immediately with. You also have to define the type and size of packages and the price that you will offer to your customers. You can also include value added services in your plans and packages.
Almost all parent companies guide on setting up packages that you need to propose to your potential clients.
Follow the instructions provided and begin marketing your new business. You simply have to support your new clienteles and watch your business intensify!
Opportunity to Create Your Own Brand
You see, you can run your own hosting business under your banner and brand. Your clients won't come to know who the actual upstream hosting provider is. Moreover, when your services are great, clients believe you and they won't even have any obligations! This gives you total control in promoting your business with your name written all over it!
Benefits of Reseller Hosting Program
With reseller hosting program you can reap incredible benefits. Here are some of them
Development companies can earn great profits by breathing websites and offering hosting for them.
You are free to customise or design hosting plans and packages for your clients.
You can create your own unique brand and host your customers under it.
You get the liberty to make independent control panels for each of your clients.
Enjoy money saving benefits due to its affordable start-up costs with the opportunity to your business upgrade later.
Conclusion
If you wish to start earning a substantial recurring revenue, reseller hosting program should be something that you must go for! Many web hosting leaders are offering some of the genuine reseller services to start with. Thousands of web designers, developers, online marketing companies and advertising agencies have already wetted their feet with this amazing business opportunity. It is time for you to give a thought!
About the Author
Intrigued by latest technology, Laxmi Sharma is a passionate content marketer and an avid technophile. Writing about latest trends is what gives her pleasure. She enjoys surfing the net and enjoys photography.