Recent infringement suits filed by Ericsson over the patent issues have brought into focus the importance of Standard Essential Patents (SEPs) in India. For instance, quite a few suits have been started by Ericsson against home grown and Chinese mobile handset makers, namely Micromax, Xiaomi, and Intex. Ericsson is claiming that these defendants have been infringing on certain standard essential patents of Ericsson.
STANDARD ESSENTIAL PATENTS (SEPs): An essential patent or standard-essential patent is a patent that claims an invention that must be used to comply with a technical standard. In telecommunication sector, the SEPs include some of the following technologies:
Cellular Base-band chip
3G, 4G
Memory and multimedia cards
DRAM
WiFi
Bluetooth
GPS
NFC
Battery, Audio, MP3, Camera, JPEG
OS related Standards
Thus, in order to manufacture standard compliant mobile phones, tablets and other electronic devices, manufacturers will have to use technologies that are covered by one or more SEPs.
Also, it is essential that the patent owners complies with, and endorses, terms that are fair, reasonable and non-discriminatory (FRAND) for its patent licensing programs that make standard-essential patents widely available.
SEPs in India: Telecommunication sector
The concept of SEPs evolved in India when Ericsson in 2011 objected to the importation of handsets by Kingtech Electronics (India), claiming that the handsets infringed several of their SEPs in AMR Codec (Adaptive Multi-Rate) technology. This was the starting point for SEP litigation in India.
In December 2014, Ericsson had filed a suit against Xiaomi in India for the alleged infringement of the 8 Standard-Essential Patents (SEPs). The Delhi High Court granted an injunction against Xiaomi on the sale, manufacture, advertisement, and import of Xiaomi's devices. Xiaomi claimed that its latest devices in the Indian market (as of December 2014) the Mi3, Redmi1S and Redmi Note 4G, contained Qualcomm chipsets, which implemented technologies licensed by Ericsson.
Later, Xiaomi entered into a Patent licensing agreement that covered Qualcomm's 3G, 4G patents including 3-mode (LTE-TDD, TD-SCDMA and GSM) to avoid any injunctions on its latest launched smartphones in India.
The maximum number of Standard patent applications owned by leading telecom players in India falls under IPC Subclass H04W which in general relates to wireless communication networks, followed by H04L which in general relates to transmission of digital information that covers data transmission, telegraphic communication, and methods or arrangements for monitoring.
The graph clearly shows the dominance of Qualcomm in all the mobile communication technology domains in India, followed by LG, Samsung, Nokia Ericsson and NTT Docomo.
Qualcomm capitalized not only on its research but also on its influence in standardization to become a clear central force when 4G was rolled out. By the time, other players caught on, Qualcomm already owned the bulk of intellectual property that enabled 4G operating speeds, especially around baseband processors.
Further, upon mapping down the trend of filing SEPs in different technology areas in past 10 years, we found the main technology areas in which the maximum number of SEPs have been filed in India are User Equipment Uplink, UES, Shared Channel, PDCCH, OFDMA, Modulation Symbol, GPP, Downlink, 3rd Generation Partner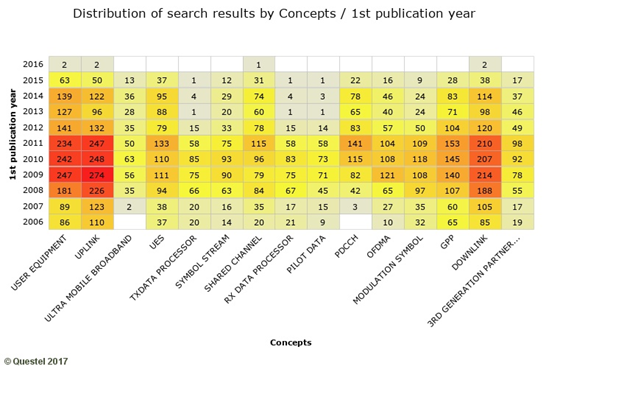 Further drilling down the analysis in the direction of analyzing some important patents that are most cited standard patents of key players, following list of patents are obtained. These patents are filed in India and are most sought after or important standard patent references.
List of top five patent/applications of key players that are most cited are depicted in the table below:
| | | | | |
| --- | --- | --- | --- | --- |
| Patent/Application No. | Title | Technology domain | Date of Publication | Assignees |
| US2010080125A1 | Edge Continued Evolution, Improved Channel Request Method And System | EDGE | 1-April-2010 | Ericsson |
| US2012051303A1 | Wireless communication systems & methods | GSM | 1-March-2012 | Qualcomm |
| US2013343239A1 | Data transmission in carrier aggregation with different carrier configurations | Downlink Sub-Frame | 26-December-2013 | Qualcomm |
| US2010272268A1 | Enhanced high-speed downlink shared channel serving cell change procedures | SCFDMA | 28-October-2010 | Qualcomm |
| US2012327799A1 | Network node and method related to buffer estimation | Adaptive Multi-rate Codec | 27-Dec 2012 | Ericsson |
Conclusion:
The patent filing trend of SEPs in India is on the increasing level and will increase further with the fast growing Indian telecommunication sector. The introduction of 4G technology saw several standard patents being filed or granted in India. Thus, there may be more enforcement actions coming up in the Indian High Court with the smartphone giants, for example, Qualcomm, Ericsson and Samsung.
As the future of mobile technology is heading towards 5G technology, which includes World Wide Wireless Web (WWWW), Dynamic Adhoc Wireless Networks (DAWN) and Real Wireless Communication, companies like Apple, Samsung and Intel are already working hard to ensure they stay ahead of the curve on 5G research and development.
About the Author:
Mr. Gaurav Singhal, Principal IP Attorney, Director & Co-founder of Patracode, founded the company with a vision of providing world class IPR Solutions to every individual, irrespective of the size of the service seeker, whether it is for individual persons, SMB's or Large Corporates. The Co-Founders Mrs. Kavita Poddar and Mr. Gaurav Singhal, together have worked on business strategies and models that have proved to be the most efficient and have helped them secure the distinction of being a name to reckon with among the great IPR Solutions Providers in India.