Ahead of the highly anticipated release of Baahubali : The Conclusion, the makers wanted to promote the launch with an interactive Chatbot quiz to give fans a quick recap of the movie.
Social & Digital Agency KRDS India was roped in to develop an interactive Chatbot on the page to promote the movie. The move comes after KRDS India developed a series of movie promotion Chatbots, recently for Kaabil, M.S Dhoni, Jolly LLB 2 and Badrinath ki Dulhaniya.
The Chatbot was launched on Baahubali's official facebook page after the trailer was launched on 15th March 2017. The idea was to engage  the Users and get them to guess on the stotyline of Baahubali 2 from whatever they could gather on the Trailer of the movie.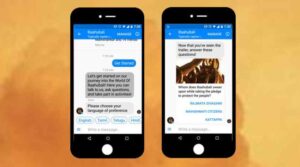 Users can message the page to play the #ChatQuizChallenge that had 5 trivia questions from the Trailer. The BOT is a multi-lingual BOT and is in five languages – English, Hindi, Tamil, Telugu and Malayalam.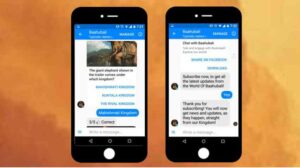 Commenting on the Chatbot, Senthil Anand – General Manager at KRDS India Agency said:
"With the huge success of Baahubali – The Beginning, fans of the movie, across India have been eagerly awaiting the sequel and for this reason the #ChatQuizChallenge was launched to fuel the anxiety created by the trailer and to get users to subscribe and get new updates from the production crew
We've already seen good reception to the BOT on all languages and hope to hit a milestone with the number of subscriptions to the Chatbot soon"
At the end of the quiz users can receive a customized Baahubali 2 artwork with their profile picture to show their support for the franchise.
The user could also subscribe to the Chatbot to get exclusive updates from the production crew of the movie.
The Chatbot can be accessed by messaging the page [https://www.facebook.com/BaahubaliMovie/]  or on Messenger  [https://www.messenger.com/t/BaahubaliMovie]
ABOUT KRDS:   
KRDS India, part of the Paris headquartered KRDS Group, is a full service Digital Agency and a Facebook Marketing Partner in the region. KRDS has been part of Facebook's esteemed partner program since its inception in 2010.
KRDS Group counts Ardian (ex Axa Private Equity) as an investor and is part of R3 Social 40, a new initiative from global consulting firm, R3, to showcase forty of the world's best Social Media agencies around the world. Part of the SMAK Network, KRDS India with the help of its partner agencies can execute campaigns anywhere in Asia Pacific.
With over 160 employees worldwide, KRDS' focus has been on Social Media and Mobile Marketing. KRDS India has worked with over 30 brands to date, Some of the clients include Lifecell International, ICICI Lombard, Ministry of Ayush, Aditya Birla Group, Zee Entertainment, Future Generali, Bata India etc. KRDS India also excels in developing social media strategies integrating application and microsite development, community building and management, along with social ads management.
PRESS CONTACT:
Senthil Anand.S
General Manager, KRDS India Agency
Mob: +91-97-89-948907
senthil.anand@krds.com