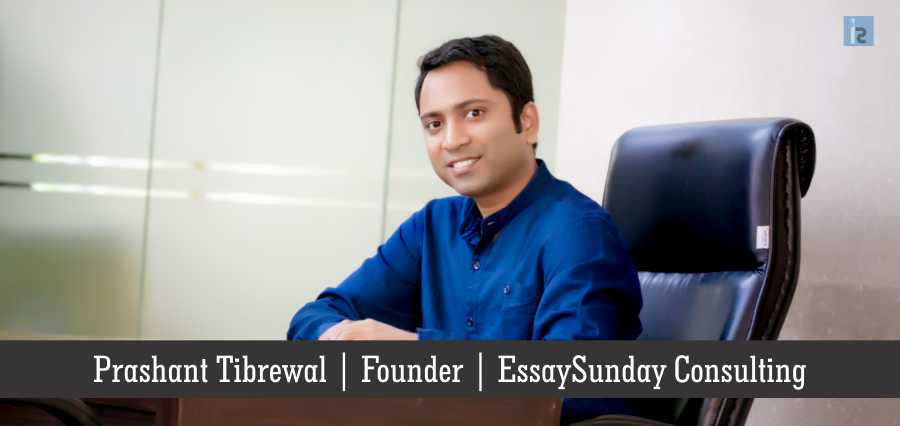 With the increasing demand for international Master's degrees, Admissions Consultants have begun to play a crucial role in helping candidates achieve their dreams, more so, while applying to the top global universities like Harvard, Stanford, Oxford, Cambridge etc.
EssaySunday Consulting is one of the leading Admission Consulting companies focused on admissions to Masters programs in Management and Business in the top universities in India and abroad. It is the only admission consulting company in India, with former admissions officials from the Indian School of Business (ISB), and a pool of alumni from some of the top global programs with the organization as consultants.
EssaySunday provides end-to-end consulting for top management programs in India and abroad.  The company provides a wide range of services including: Profile Building; University Shortlisting; Application Assistance; Interview Training; and Scholarship Assistance.
Application Assistance remains its flagship offering since it is the most challenging and important part of applying to top programs. While its division ISBmantra focuses on applications to ISB, EssaySunday Consulting attends to candidates applying to any of the top 50 Business Masters programs globally.
Dedication and Excellence: The Hallmarks of EssaySunday
The EssaySunday brand stands for commitment and quality, and the organization aims to remain a one-stop source for all authentic information and advice for top global universities.
The company started 7 years ago, and had to compete with some of the biggest names in the industry. With diligent attention to the minutest of details, and extremely high level of commitment, it challenged itself and came up with a "100% Money Back – No Questions Asked" policy. It has worked with some very good clients and has got with some of the top global programs like Wharton, Kellogg and Oxford in its very first year. It still follows the 100% Money Back policy even after achieving higher numbers than most of its competition.
For EssaySunday, every project is its biggest project. It has a very refined set of clients who are high-achievers, with an average of 4-5 years of full time experience (total range from 2 to 20 years) and are looking for a top business master's program among one of the top 50 universities globally. With success in placing students in almost all top programs, it enjoys a good brand reputation. Some of its most challenging assignments have been while working with candidates with non-traditional profiles looking for an MBA, e.g. a national level swimmer, a fashion model, an army officer having served for 20 years in the army, etc.
A Passionate Leader
Prashant Tibrewal, the Founder of EssaySunday, leads the organization to the road of success. He sticks to the adage "Customer is the king", and believes that if the customer is not happy, one has no reason to be in business. He has put in diligent effort to put together a pool of Consultants that are experienced and committed to the success of the candidates. With the consistent success the company has achieved at the Ivy League universities, Prashant takes pride in the fact that about 70% of his candidates have been referred to the company by its past clients.
Growth Driven and Result Oriented
Growth is what drives the company. Be it presenting additional value to the customers every year, or diversifying into related areas on the value chain, or just building internal resources for its own betterment, it puts in significant investment of time and money to remain progressive. It has helped the company to remain ahead of its competition in delivering its current set of services, and has helped it to come up with an innovative range of ancillary services that may soon become its largest offerings.
The company's marketing efforts are directed towards building strong trust and credibility through different message boards and discussion forums online. Genuine and insightful guidance through the forums is its biggest marketing and tool to build trust. It has also regularly organized information webinars in collaboration with representatives from top universities like Oxford, Wharton etc.
Prashant is a member of the Association of International Graduate Admissions Consultants (AIGAC), which is an invite-only group of admissions consultants from across the world. He is well-networked with admissions officers from a wide range of universities and brings rich insights about the admission process to achieve a remarkably high success rate. About 10% of the current class at ISB has taken assistance from ISBmantra. The company has helped students make it to the top MBA programs like Kellogg, Wharton and INSEAD.
Seek the 3Ps of Success
Prashant advises the budding entrepreneurs to pursue the 3Ps of success – Passion, People and Perfection. "Do things that you are 'Passionate' about – something that you don't get bored of even after doing it 1000 times; something that you are excited to wake up to", suggests Prashant. He further adds that 'People' are the most important ingredient to success. One should build a team that shares the founder's passion, and invest well on the growth of its people, along with the growth of the organization. And finally, he recommends defining one's short term goals centered on Perfection Points instead of Monetary Milestones. He says that if one pursues perfection in their products and services, money will follow.
Source :-The 20 Pathbreaking Brands to Watch in 2018